When you select the Confirm button on either a new purchase order or a draft purchase order, you will be presented with the Confirm Purchase Order dialogue.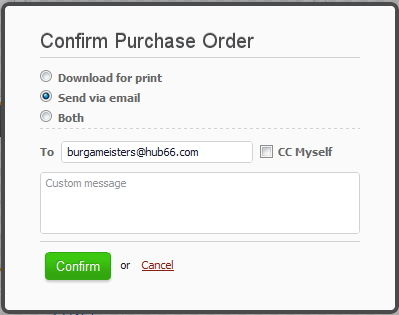 Printing and/or emailing a purchase order
Select whether you wish to print (and post), email (or both) the Purchase Order to the supplier. Please note you can only email the supplier if the supplier has been saved with an email address as a contact detail or if the To: email address has been completed on the screen. You can optionally Include a message to the supplier and choose whether to cc yourself on the email.
If you choose to print the Purchase Order, the PDF document will then download onto your PC using the default browser functionality. You can choose whether to save or print it as you require.
Tradevine has a standard purchase order email, but you can create your own customised email template.