Gallery Plus is an extra you can use on your Trade Me listings to potentially score some free gallery fees. To help you better understand the intracacies of Gallery Plus we have included information on Gallery for comparison purposes.
Gallery
Your main product photo will appear in search results and the photo will also be displayed when Trade Me users search by Gallery.

The 55 cent fee applies to the General categories. Books for example incur a 25 cent fee. The Gallery fee is applied every time the product is listed.
You cannot opt for Gallery and Gallery Plus at the same time.
Gallery Plus
Like Gallery, your main product photo is displayed up front in searches, increasing your chances of creating interest in your listing.
The 65 cent fee applies to the General categories. Books for example incur a 30 cent fee.

The key difference is that you can potentially get up to two free gallery fees for each set of 3 listings, if the item goes unsold each time. So you get charged for the first of potentially three listings and the remaining two unsold listings would get free gallery. As soon as the listing sells, the process starts again and the next listing gets charged for a new Gallery Plus. The example below shows you how the Gallery Plus fee is reset when a listing is sold before the set of three completes. The example excludes fixed price offers and these are explained further on.

Because we look for previous listings to relist, the first few Gallery Plus listings may all be charged as if they are new because there are open fixed price offers (FPOs) against the previous listings. This will settle down after a few listings. It just means you may have multiple overlapping Gallery Plus relists to track. We will try to find the oldest listing within the last 45 days to leverage off for your 1st or 2nd gallery plus relists.

FPOs will affect and determine which listings are credited with free gallery. Below is an example where 3 day FPOs are made when the listings close unsold and each listing has a duration of 7 days. Since the first listing has an open FPO, the free gallery cannot be linked to that listing until the FPOs for the listing are all declined or have expired. So in the interim, a new Gallery Plus listing is created until we can find an unsold candidate to piggy back the free gallery onto.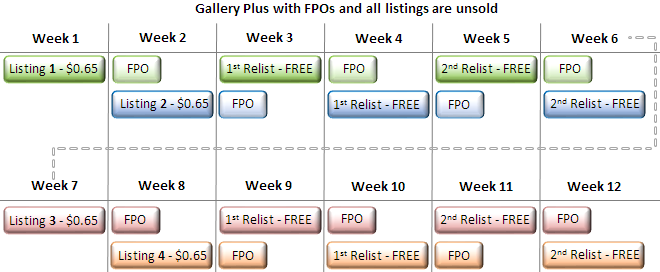 Also, Trade Me only keep the listings on their radar for 45 days, so if you have auto-listing turned off and you list periodically then you may not get onto your third relist before the 45 days is up, so this could create a new chargeable Gallery Plus listing. Withdrawn listings are also excluded.
Here is a quick summary of the listings that are excluded from the 1st and 2nd Gallery Plus relist:
Withdrawn listings
Sold listings
Unsold listings with open FPOs
Listings older than 45 days
You cannot opt for Gallery and Gallery Plus at the same time.
If you have an item that sells really well, then you should probably use Gallery.