This is the first screen you will see when logging into Tradevine for the very first time. This is the first step of a very brief wizard that will capture some basic details to get you set up to use Tradevine.
This step is about capturing some basic information about your organisation.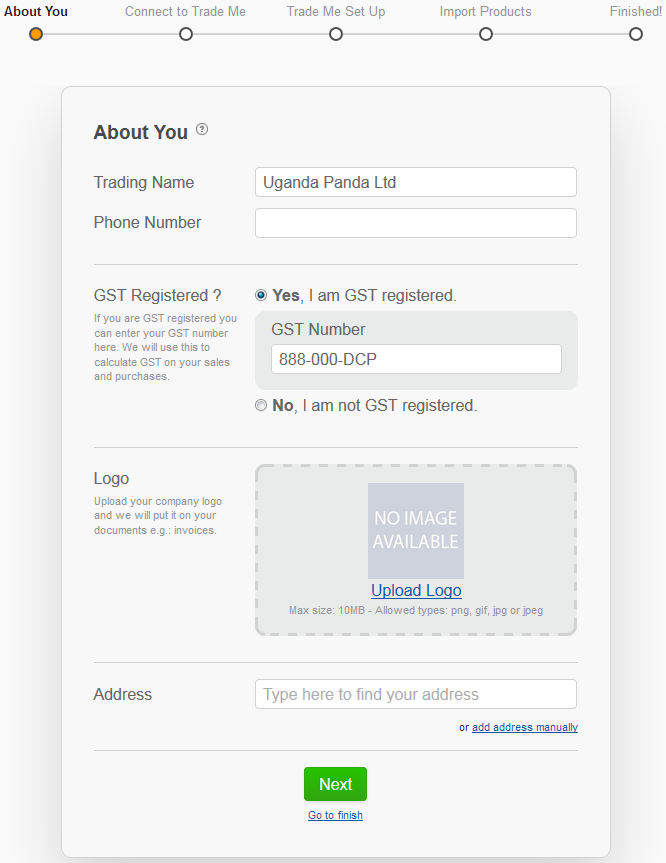 If you have a Trading name then replace your name with your organisation's trading name.
If you are registered for GST, then ensure you enter the correct GST number. Once you complete the wizard the GST number gets locked down and cannot be changed by yourself.
You can upload or drag your organisation's logo onto the image thumbnail. NB: not all web browsers cater for dragging files.
You can quickly add your address by starting to type the first few details of your address. This should provide a shortlist of recognised NZ Post candidates to select from. If your address does not appear in the shortlist, then just type the address in manually. The address will be flagged by default as your default billing and default postal address. You can add more addresses later once you complete the wizard, as well as change the default addresses.