As with all new systems, it can be a daunting time learning to use a new system. This quick overview should walk you through the important features Tradevine offers and help you familiarise yourself with the application.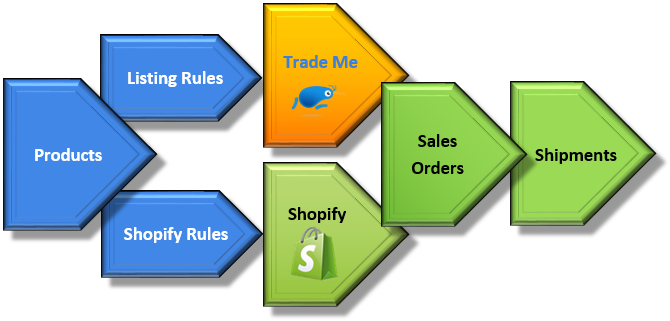 The first place to start is the Dashboard screen. You can always navigate to this screen by selecting the Tradevine logo in the top left corner of your screen (unless you have already worked out how to change the Startup page on your profile to another start up screen).
Listing on Trade Me

If you have created your products by importing them from Trade Me, and you're ready to start listing, all you need to do is make sure your auto listing is switched on. Otherwise, you will need to create a listing rule for each product that you wish to list on Trade Me.
To edit your Trade Me listing rules for a product, open a Product, navigate to the Trade Me tab and edit from there. You can even update live Trade Me data by updating your listing rule settings, selecting Save, and then selecting Yes when prompted if you wish to update your current listings.
To see your listings on Trade Me, navigate to the Listings screen which can be found under the Sales menu, as well as your closed listings and listings currently on Fixed Price Offer.
Modify your default Trade Me set up by going to the Trade Me Settings screen which is available under the Settings cog (top right corner of the screen).
Tradevine offers a lot of Trade Me features.
Sales
Sales orders can be created manually, from Trade Me or from Shopify (if you have Shopify set up). A sales order will remain in a Pending state until it has an address and payment received checked. Then it goes to the Awaiting Shipment status so the Shipment can be processed. Sales from Trade Me using Pay Now or from Shopify using a credit card, will go straight to an Awaiting Shipment state, providing an address has also been supplied.
If you are not on Xero (online accounting that Tradevine has integrated with), then a quick and easy way to reconcile your payments and mark orders as paid is to import your daily bank statements and match the orders by price, date and amount.
Processing Shipments is simple. First press the Auto-Print button and print out all your pick lists, and/or pack lists and/or invoices. Then pack and dispatch the order and confirm the shipment in Tradevine. Whilst confirming, you can capture the tracking number, and choose to send that plus the invoice to the customer so that they can track the shipment's progress.
There is also a slimmed down Fast Shipping feature if you send many items a day with consistent ease.
Purchases

Did you know that you can do your purchasing and receipting of goods in Tradevine too. If you're tracking inventory, then the stock levels will be adjusted once the goods have been receipted.
Reports
Tradevine has a number of metrics and reports for you to use to keep track of how well your business is performing. Check out the Reports menu and then select the report you wish to review. Many of these reports can be filtered by some simple criteria, or exported into Excel for further analysis.
Settings
To alter and review your Tradevine account settings, select the Settings cog in the top right corner to see all the menu options. You can update your company logo, basic Organisation details, set your plan and billing details, and add further users. Plus much more.
Not every product fits everyone's needs, so if you wish to cancel your account, then this is easy too.