The plans
Tradevine offers a free 30 day trial. At the end of the trial or at any time during the trial you can opt to choose a plan that best suits your needs. When you sign up, you will be put automatically onto the free 30 day trial. The expiry date of your free trial will always be displayed on both your Dashboard and the My Plan screen. Regardless of the trial or plan you are on, the details will always be displayed on the My Plan screen.

When your trial expires you will still be able to login for a small grace period so that you can make any adjustments you may need to, to cater for the plan of your choice.
To select a plan, navigate to the My Plan screen and select the plan you would like.

If there are any contingencies that need addressing like reducing the number of products, then these will be detailed in a courtesy dialogue that will stop you from proceeding until the contingencies have been rectified. Once these are rectified select the plan again and this time a breakdown of the pricing and all of the components will be displayed.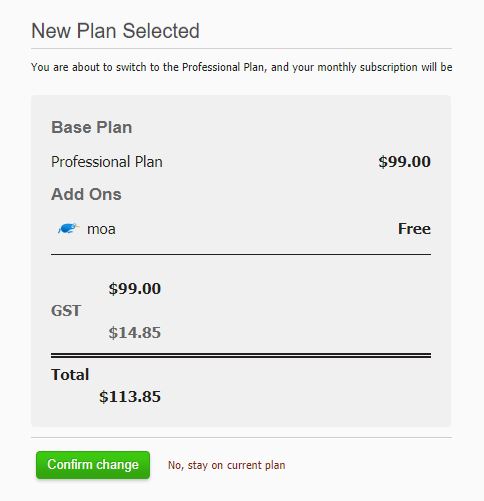 Confirming the dialogue will complete the plan selection and commence the monthly payments.
You can change your plan to a paying plan at any time. See our website for a comprehensive rundown on the pricing and features.
Changing plans
You can upgrade to paying plan at any time. You can upgrade or downgrade at any time. You may need to remedy some settings or features before being able to upgrade or downgrade. If there are things to remedy, then we will try to tell you when you opt to change plans. Our website details all the features that each plan provides.
To change plans, navigate to the My Plan screen which can be found under the Settings cog menu. From there select the Change Plan button to bring up a feature list of each of the plans.
If you are already on a plan then that plan will be highlighted with the words CURRENT PLAN. Once you have reviewed the plans you can upgrade or downgrade by selecting the plan's Select button.
Update payment details
You can update your credit card details at anytime. From the My Plan screen, select the Update Payment Details link. The update process should return you to Tradevine so you can carry on.
Suspended accounts
If your account has been suspended, most likely because your credit card expired, then you are likely to see something similar to this when you login:

Updating your credit card details via the update your payment details link, will clear the suspension. Providing the updated credit card details were successful, then you should be able to carry on.
NB: when your credit card is due to expire we will email you a couple of courtesy reminders prior to the expiry, to help you to maintain the virtually hands off auto rolling payments each month.
Cancelling your account
It is no longer possible to cancel an account, but you can downgrade to a standard free Trade Me My Products account.