Research suggests you shouldn't change your password on Fridays because you won't remember it on Monday
Passwords must comply with the following format:
Must be 8 characters or longer
Must not be a repeating character only
Must not be only consecutive numbers (e.g. 12345678)
Must not be part of email address
Must not contain word password
Must not contain word 'trademe'
Must not contain word 'tradevine'
Must not equal first name
Must not equal last name
Must not equal organisation name
How to change your password while you're logged in
Use the My Profile tab to change the password you use to log in to Tradevine.
Changing your password changes the password for all organisations that you log in to using this email address.
Select My Profile.
From there, select the Change password link.
Enter your current password and new password and Save.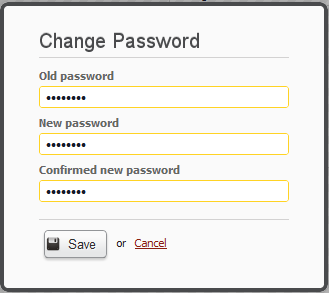 How to change your password if you've forgotten it
If you've forgotten your password, we'll send you a link to create a new password which you can then use to log in with.
We cannot email it to your for security reasons.
Go to the Tradevine login page.
Click on the Forgotten your password? link.
Enter the email address you use when logging into Tradevine and then select the Send button.
Check your email. Once you've received your Forgotten Password email, use the link in the email to reset your password.
How to change your email address
Currently, you can't change your email address or anyone else's. If you have a genuine need to change your email address, then we recommend you navigate to the Users screen and add yourself as a new user with the new email address.
If you don't want anyone using your old email address to login, then change the password for that email address to something no-one will remember or guess