There are a few ways you can get your photos onto your products:
The Photos screen detailed here, deals with uploading in readiness for importing. This screen is available under the Products menu. This screen also deals with finding photos and seeing where they are used.
There are three options available on this screen: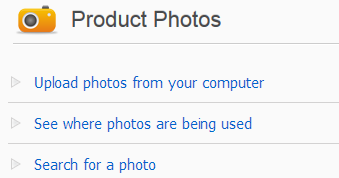 You can upload JPG, JPEG, PNG, BMP and GIF file types. In Trade Me, PNGs and GIFs get converted to JPG (with a small reduction in quality), and any transparent areas are converted to white. In Tradevine and Shopify the transparent areas are retained.
We restrict image sizes to a maximum of 10.24Mb (10,485 bytes). Images greater than 2048 pixels high or wide will be resized with a maximum side of 2048 pixels.
Uploading from your computer
If you intend to import your products and assign an image from your computer to your products, then you should upload your images first, prior to importing, so that their existence is known to Tradevine.
Since images are assigned to products based on the filename, you should ensure each image has a unique filename.

After selecting the Use photos from your computer link, select the Add files button to select the images to upload. The process to upload the images should start automatically. The upload may take a while if you have a lot of images to upload.
You can select a series of images to upload by holding down the SHIFT key or multiple images using the CTRL key.
If you have previously uploaded an image with the same filename, then you will be prompted to:
Overwrite and replace the existing photo.
Use the existing photo, so essentially skip and just keep the existing photo.
Rename the new photo and keep the existing photo, so that you have two copies.
Your decision will apply to all images where the filename is already known.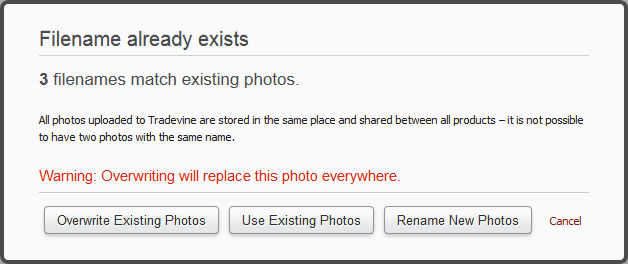 The progress of the upload will be displayed during the upload of the images.
See where your photos are used
This option displays all your products and all the photos for each product. The view also includes the photos for each Trade Me listing rule and your Shopify products.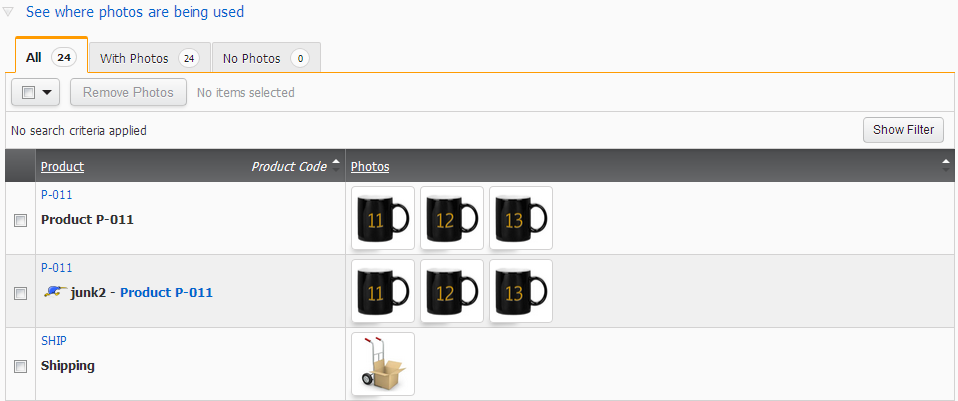 You can use the With Photos tab and the No Photos tab to find the products, that do or don't have any photos. Show Filter can also be used to refine the products to view.